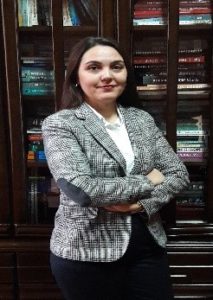 Dr. Med. Science Nilena Eriksen
Dr. Med. Science Nilena Eriksen (Nasi) graduated from the Faculty of Medicine and Pharmacy of the Dental Medicine University "Carol Davila" in Bucharest in 2001. In 2005, after finishing her postgraduate studies, she received the title of the Specialist Doctor in General Dentistry, and in 2007 received the title Doctor of Medical Sciences, Department of Pedodonty, Faculty of Dental Medicine, University of Medicine and Pharmacy "Carol Davila", Bucharest, where she defended the PhD thesis entitled "Contributions to clinical framework and treatment of complicated caries in level of temporary molars ".
In 2008-2010, she has been engaged as an external lecturer at the Faculty of Medical Sciences, Albanian University to return to 2013 as a full-time lecturer for the Pediatric Dentistry and Nutrition cources. Since 2018, she is in charge of the Department of Dentistry Department of the Faculty of Medical Sciences at Albanian University.
Dr. Med. Science Nilena Eriksen is the author of two publications in Romanian, as well as a co-author of various scientific articles, published in Albania and abroad. In addition she has participated in many National Dental Scientific Conferences.