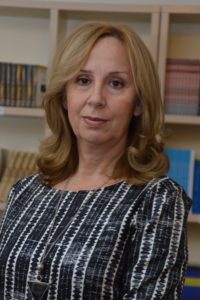 Prof. Assoc. Dr. Manuela Mece
Prof. Assoc. Dr. Manuela Mece is a key and team leading expert on business start-up and business-related programs, market analysis, strategic planning, policy drafting, stakeholder coordination, monitoring and evaluation of economic and development programs at national and regional level.
She has full experience in facilitating cooperation with local and regional governments and local private businesses.
She is a lecturer of Management, Marketing and Consumer Behavior, Business Communication, Business Ethics, Developmental Economics, Entrepreneurship and Innovation Management, courses at Public Universities (Tirana University) and Private Universities (UET, UMT, AU) since 1987 and onwards. Extended scientific research expertise as well as doctorate studies in marketing and consumer behavior. She is an Associate Professor of Management.
Researcher and a Development Professional with over 17 years of experience in managing, coordinating and managing economic development projects in NGOs, local businesses and local governments focusing on innovative businesses, gender and youth engagement at regional and national level in Eastern Europe and Albania. She has a consolidated experience in team and staff development, negotiation with partners and strategic development for the involvement of donors / stakeholders in the local agenda.
She obtains research expertise in the coordination and drafting of strategies and policy documents, such as Fair Buy, Fare trade (Oxfam policy brief); Regional Strategies for Tirana and Vlora, Poverty Assessment with Participation Methods (Oxfam GB), World Bank Policy Approach 2003; Market Research for Higher Education (for the Technical Institute Harry Fultz), Study on the Economic Program for Women in Albania (for UNDP) and Tajikistan (for Oxfam GB), conducting research, analysis and Writing the Gender Sensitivity Report on Skills in the Agricultural processing, Tourism and ICT sector in Albania, Drafting a United Nations Women's Action Plan on Economic Empowerment of Women and Initiating six Social Business enterprises under this action, writing and contributing to the strategy for local government and territorial reform in Albania.