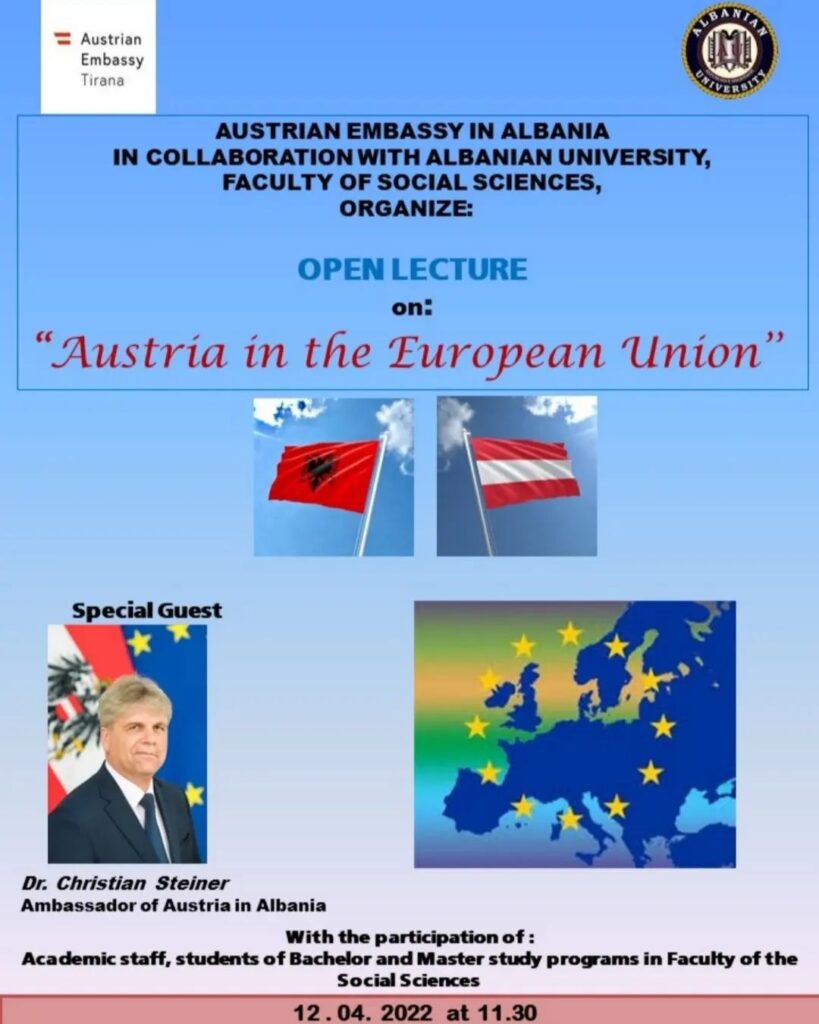 Students of" Albanian University" (AU) had the opportunity to attend an open lecture on role of Austria in the European Union, held by Austrian ambassador in Tirana, His Excellency, Dr. Christian Steiner.
At the beginning of the lecture, Assoc.Prof. Enver Bytyçi, lecturer in the "Albanian University", made a presentation of the long diplomatic career of Austrian ambassador to the participants in this event.
Dr.Steiner gave a brief historic overview on the establishment of European Community, which at first started as an economic union1951 and later on during the lecture he focused on the EU enlargement process in nowadays.
Students showed great interest in this topic and asked questions aiming to learn more about the role of Austria regarding further EU enlargement, underlining the national aspiration of Albania to join EU in the nearest future.
At the end of activity, Dean of Faculty of Social Sciences (FSHSH), Prof.Dr. Kaliopi Naska expressed her gratitude for the presence of Austrian Ambassador Dr. Steiner in this open lecture for students of "Albanian University", pointing to fact that AU has established a series of scientific cooperation bridges, such as with Kirchliche Pedagogische Hochschule in Vienna, with which AU has signed a cooperation agreement in the field of education. Among other things, she thanked ambassador Steiner also for his presence at the award ceremony of the title "Doctor Honoris Causa" to Karl Fink, a distinguished personality in the field of business and a philanthropist focused on helping vulnerable groups in Albanian and the Balkans.
In a token of gratitude, Dean of FSHHS gifted Austrian ambassador several scientific publications of" Albanian University".