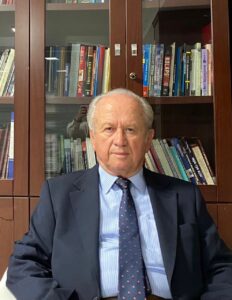 Dear Students,
Dear Colleagues,
We are here today to welcome the new students to "Albanian University", in a year in which the research communities, public entities, we all together are trying to restart life in auditorium.
It is a great pleasure for us, professors, to be again in touch with you, to have the chance to interact together in auditorium conditions.
From today, you start the wonderful journey filled with professional dreams that together we will make them come true.
Universities are created as places of knowledge and innovation, so "Albanian University" adapted itself to the online format proving itself as a challenger in teaching even in those conditions but also as an unimaginable solidary community, preserving each-other's health. This year we have a new challenge; the pandemic is still between us; you must witness yourselves as trusting in science and its great developments and be vaccinated, as in you we see the scientists of tomorrow.
I assure you that your choice to study in "Albanian University" is the best, as not just because "Albanian University" is the biggest non-public university in the country, but because it provides you the most qualitative and qualified staff in the country, it provides contemporary teaching methods, fully-equipped clinics and labs, provides care and high ethics in the professor and administrative staff's behavior.
Since the year 2004 when it opened its doors with 100 students, it grew and grew as an extraordinary success. The number of high school students always high who choose our university, is the proof that we are on the right track. This is because the vocation of our pedagogical staff is giving, sharing and transmitting the knowledge they possess; this pedagogical philosophy of creating interaction is in the DNA of our institution.
"Albanian University" graduated 17.714 students who are a community scattered all over the world; proud and happy with the name they hold in their diploma, which helped them to have a professional dignified life wherever they are.
I would like to highlight that the diploma that you will be granted at the end of your studies in "Albanian University" is not just a diploma; it is a passport of your integration to elite circles in the country, because "Albanian University" is a place which prepares elites.
Of course a university is more than teaching, it is a scientific research center. Our pedagogical staff are always in search of being updated with the scientific developments, and always part of scientific innovations in the fields of medicine, economy, engineering and social sciences.
Dear Students,
Dear colleagues,
Let me declare this academic year 2021-2022 open, during which I am convinced that whatever difficulties we will encounter, we will be much stronger to face all of them together!
The Rector
Professor Doctor Pavllo Kongo