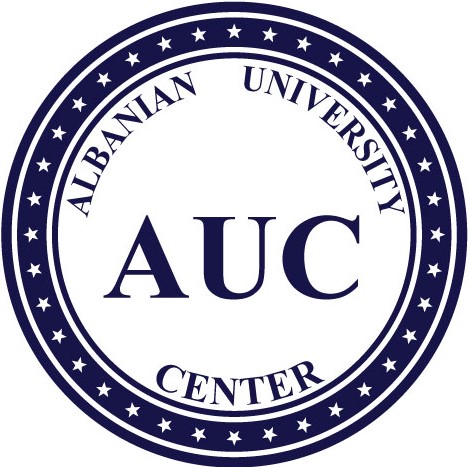 "Albanian University Center" (AUC) is a nonprofit organization that is funded with Decision of the Tirana District Court No. 848, date 03.12.2013.
Headquarters: Boulevard "Zogu I", 1016, Tirana
Executive director: Prof. Assoc. Dr. Genta Rexha e – mail: genta.rexha@albanianuniversity.edu.al
The main goals of "Albanian University Center" are:
a. scientific research in the field of medicine, engineering, information and communication technology, economy, art and design, cultural heritage, education, psychology, law, political and administrative sciences, etc.;
b. organization of activities that support and encourage employment, volunteering and increase civic responsibility;
c. encouragement of integration and developing policies in the framework of Albania's EU membership requirements;
d. functioning as a group for all members of the community, civil society and various groups of interest in order to offer them access in public decision-making;
e. strengthening the voice and community analysis at national, regional and local level with the help of civil commitment;
f. drafting and implementation of development, monitoring and research projects on public policies, government reforms through expertise and development of scientific research;
g. preparing publications and documentary films related to the mission and goals of the Center;
h. awareness of the community on the right of participation in the establishment of local, regional and national policies;
i. offering facilities for the publication of scientific papers for researchers in Albania and abroad;
j. organization of training courses for various categories, community, public state institutions and groups of interest;
k. organization of seminars, workshops and conferences aiming to complete the goals of the Center;
l. providing various services related to the Center's mission, fund raising, as non-profit activities;
m. support and encouragement of every initiative by citizens, professionals in different fields, journalists, intellectuals, organisations, considered appropriate and important for the completion of the Center's goal.
Key projects and activities:
NewSkin
NewSkin, a project financed by HORIZON 2020 program, aims to create an Open Innovation Test Bed (OITB), a new legal entity which will provide the European Innovation Ecosystem with the necessary technologies, resources, and services to uptake a set of game changing, efficient and cost-effective innovative processes to manufacture nano-enabled industrial and consumer products, as well as the necessary testing capabilities to demonstrate nano-enhanced goods features. Project's link: https://www.newskin-oitb.eu/