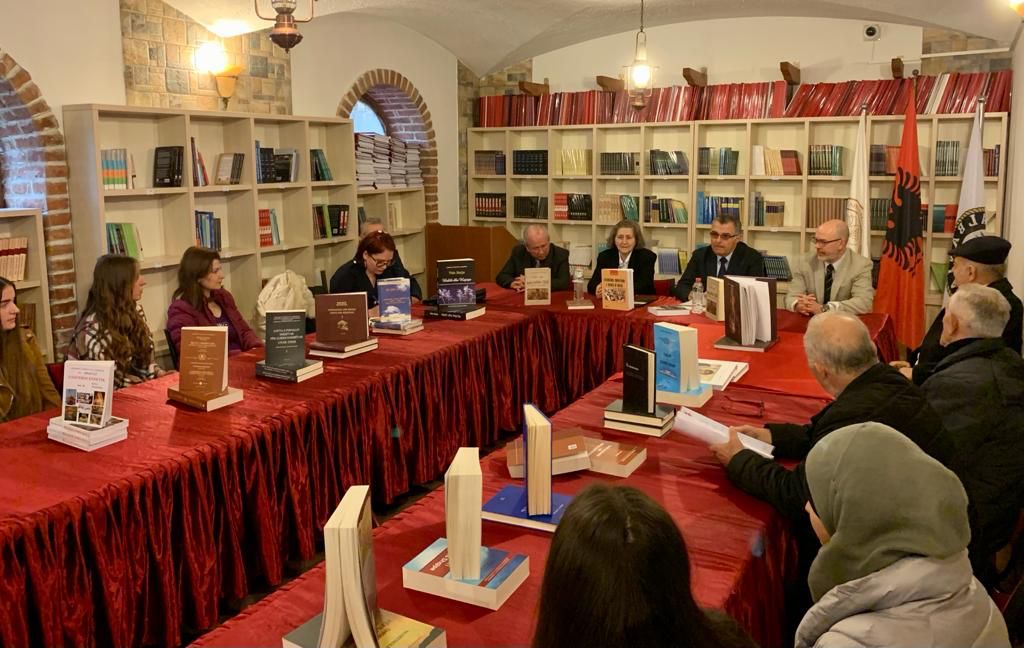 Students and lecturers of Department of Education and English in Albanian University became part of a round table on "Musicology – a part of cultural heritage and education of children with its tastes", with a special guests, a personality of national and international values in the field of musicology, Academician Prof.Dr. Vaso S. Tole, deputy chairman of Albanian Academy of Sciences.
At the beginning of the event, Dean of Social Sciences Faculty Prof.Dr. Kaliopi Naska expressed her gratitude for the presence of a such well-known scholar in the venues of "Albanian University" as well as thanked him for donation of a new fund of books, the second from the series of Albanian Academy of Sciences publications, given to the library of the university aiming to further enrichment of the study fund.
Academician Tole made a presentation of Albanian folk music values with a special focus on polyphony, part of the non-material cultural heritage protected by UNESCO. "Even though a small nation, we managed to transmit from generation to generation a great spiritual wealth thanks to preservation of songs, dances and other performing arts", Academician Vaso S. Tole underlined. He addressed an appeal to students who will be the teachers of future generations to contribute for protection and promotion of the human being and talent generating the spiritual heritage in order not to lose it.
Host of this event, lecturer Dr.NdriçimMehmeti highlighted that study assets in the field of musicology such as Vaso S. Tole who continue to contribute and inspire generations with their work must be a source of inspiration for young scholars.
The activity continued with two precious performances. One from master Fatmir Lela, who with a lahuta (gusle) performed old Albanian folk songs and one from the chorus of "Albanian University" who created emotions to the participants singing the song "Luleborë".