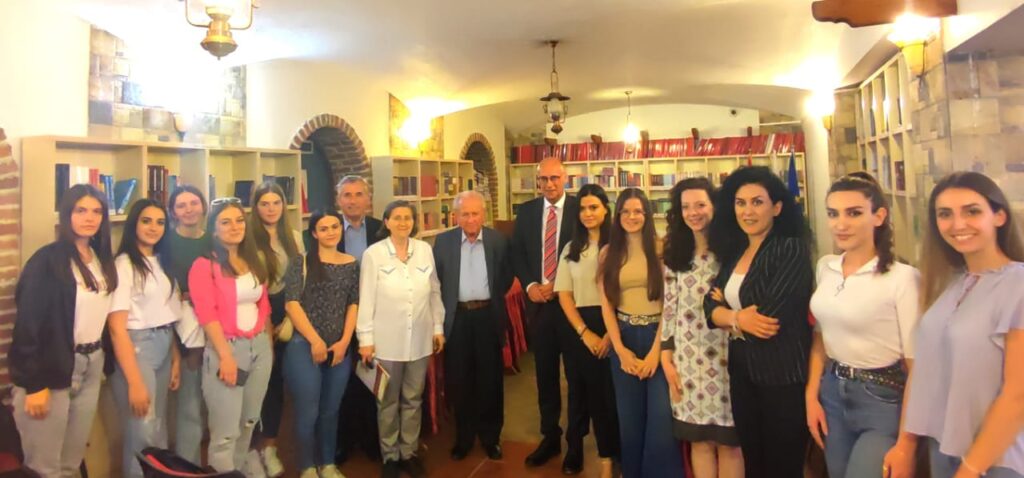 An open lecture was held on May 23, 2022 in the Albanian University by expert of economy, at the same time a jurist and consultant for transport, infrastructure and mobility in the Economic Council of CDU in Germany, Martin Henze. The topic of this lecture was "Future of Albania in the European Union – chances and reality". The scientific activity was hosted by Assoc.Prof. Dr. Enver Bytyçi. Attending the activity was also Rector of Albanian University, Prof. Dr. Pavllo Kongo.
Dialogue of Mr. Henze with lecturers and students of Albanian University was held through exchange of ideas and recognition of enlargement practices of the European Union. The lecturer highlighted two important moments: necessity of implementation of Copenhagen criteria and specific terms for Albania, as well as the need of European Union for inclusion of Western Balkans in this union.
Questions and discussions unveiled the fact that Albania, same as Croatia, Romania, Bulgaria and Baltic countries could have joined EU or could be in the eve of accession. But, progress and reforms have been slow. If Brussels has tolerated the above-mentioned countries, this was because of the trust that the governments of these countries would push ahead ongoing reforms. Meanwhile, this trust has not been created for Albania and some Western Balkans countries.
Message transmitted by this scientific activity focused on the fact that beside reforms Albania needs a full economic consensus regarding integration issues. Political division and corruption are considered as two insurmountable obstacles. Nevertheless, withdrawal of veto of Bulgaria for opening of negotiations with North Macedonia create favourable conditions for Albania regarding kick-off of negations process.
In conclusion, Dean of Faculty of Social Sciences, Prof. Dr. Kaliopi Naska praised the organisation of this scientific activity and thanked the distinguished guest, Martin Henze for the professional aspect of treating this lecture and messages transmitted to the participants. Rector Kongo and Dean Naska discussed with the guest of honor Mr. Henze also about the opportunities of establishing a scientific cooperation and exchange of experiences between the Albanian University and Military University of Hamburg in Germany, while Mr.Henze expressed his commitment for completion of concrete objectives of this cooperation.